---


​"​With poems ranging from philosophical reflections to verbal snapshots of the world around her, Jane Ellen Glasser's latest collection is a revelatory romp through the fertile mind of a master poet. Infused with pathos and occasional humor, these accessible poems celebrate the wonder of art, mythology, nature, and womanhood while dipping into every emotion of the human palette."
—Bill Glose, author of Half a Man and winner of the 2016 Missouri Humanities Council Award for Veteran's Poetry


"​When I first met Jane forty-three years ago, I thought she was the best poet in Hampton Roads. Twenty years later I thought she was one of the best poets in Virginia. Today, I recognize that I have underrated her at every step. This collection of new works is hardly in the shade of paradise but surely part and parcel of."
—Robert P. Arthur. author of Hymn to the Chesapeake

​

IN THE SHADOW OF PARADISE

​Publication date: February 1, 2017

from FutureCycle Press $15.95, Kindle $2.99

https://goo.gl/1V8PUEIn the Shadow of Paradise

by Jane Ellen Glasser opens with an epigraph by Rumi, "The wound is the place where the light enters you," a theme resonant throughout her seventh collection. Subjects such as romantic love, aging, disappointment and death are examined through a lens of understanding that loss is both inevitable and necessary in growing a full life. In her poem "Cracks," she reminds us, "Every scar/ is the shorthand/ of an important story," each crack "…a door opening/ onto a larger room." A signature of her work, Glasser views nature as a mirror for human nature. Swallowtails hovering above phlox suggest that "…pleasure/ can only be tasted in small sips." Taking a magnifying glass to the small, the commonplace, she discovers remarkable meaning. A piece of recovered sea glass intimates that what we discard, "bury/ in a sea of repression," over time returns, "softened/ by memory, beautiful/ in its forgiveness." Another source of inspiration is art. Works by Rousseau, Chagall, Picasso, Rubens are springboards for self-examination in her ekphrastic poems. With wisdom harvested by time, the overriding tone of her collection is one of praise, celebrating a life "happily flawed."

​

​​"In the Shadow of Paradise is filled with everything I love about poetry--beautifully crafted images, taut language, the best words in the best order, insights that make me think. At turns enigmatic, ecstatic and elegiac, the poems are lyrical, intensely intelligent examinations of renowned paintings and sculptures, timeless mythologies and fairy tales, and deeply felt spiritual beliefs that reveal, like Mona Lisa's chapped lips, that imperfection is perhaps more compelling than flawlessness, that 'every scar/is the shorthand/of an important story.' "—Jen Karetnick, author of The Treasures That Prevail

​
CRACKS Released by FutureCycle Press March 11, 2015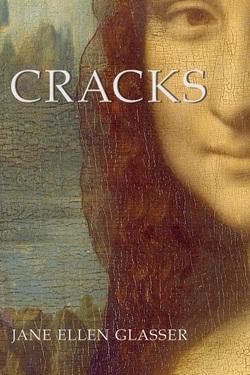 CRACKS
(2015), available from FutureCycle Press and Amazon.
​
http://www.futurecycle.org/index.php/en/component/k2/item/224
http://www.amazon.com/gp/aw/d/1938853792/ref=mp_s_a_1_1?qid=1426164483&sr=8-1&keywords=cracks+by+jane+ellen+glasser
DESCRIPTION
The art of Kintsugi, using gold to fill cracks or mend shards in Japanese ceramics, suggests that when a thing has been damaged by time, it becomes more beautiful. So, too, for human experience, offers Jane Ellen Glasser in her chapbook "Cracks," her sixth poetry collection. In the title poem, the speaker states: "Don't give me perfection/ immune to clocks" as "[e}very scar is a door/ opening onto/a larger room." In her 70th year, Glasser does not bemoan aging, but, rather chooses to acknowledge, even celebrate the inevitable accidents of experience that grow a life.
Through her familiar technique of using nature as a lens for understanding human nature, like Daphne transformed into a laurel, she aspires to be rooted while "reaching for the sun." In the opening poem "Soloist," the speaker identifies with the mourning dove, perched atop a roof's ridge, where solitude serves as a kind of oil for releasing the poet's song. Whether eavesdropping on birds, out for a walk, or cataloguing her favorite places, she recreates nature with vivid, often surprising imagery that invites the reader to enter the scene.
Although lines may reference Sartre, Kierkegaard, Rilke, Shakespeare, the poems are never esoteric. It is the ordinary, the commonplace seen as extraordinary, which interests this poet. Hearing aids, sewing machines, squirrels on a tin roof, brooms and mops are the stuff she bags. And the performance of her subjects is delivered in clear, accessible poem after poem.
Unlike her earliest work, the tone of "Cracks" is one of gratitude, expressing even subjects as late love and life's end with wit and a light hand. In the closing poem "Last Wishes" she offers guidance for her future eulogist. Just as the Japanese cracked pot is imperfectly perfect, she states how she wants to be remembered: "Say I was perfectly flawed./ Say I was human."
PRAISE FOR "CRACKS"
"Cracks," a new chapbook by Jane Ellen Glasser, is astonishing for its freshness. Musical and witty, its predilections ranging from Sartre and Greek myth to a singing dove and two Labs, all rendered with accuracy and deep feeling. Hope rises here, as in the title poem: "Each crack / is a door opening / onto a larger room.
-- Grace Schulman
Glasser is a consummate artist, in her surprising metaphors and similes, in what she says and what she does not say. Think of "a roadside intoxicated/with poppies" in "For the Love of Certain Spaces." I want to quote everything, and read "Cracks" again and again.
--Jane Blue, author, "Blood Moon"
Frequently brilliant, not only as poetry, "Cracks" explodes language into rainbows of light and meaning. I held my breath. The applause you hear is the sound of Jane Ellen Glasser being recognized as one of the finest poets in America.
--Robert P. Arthur, author of "Black Gum Against Thunder"
In her new collection, Glasser sees the world with acute awareness, moving outside the human realm, like a "solitary bird" seeking out reflections of self in nature's mirror.
--Michal Mahgerefteh, poet & publisher of
Poetica
Jane Ellen Glasser is a true artist in every sense of the word. Her newest poetry collection, titled "Cracks," is one of the most moving and profound group of poems that you will ever read. Her work is brilliant, witty, fresh, lyrical... In the closing poem... she writes, "Let me live again to mine the earth in the belly of a worm." It doesn't get any better than that!
--Charles Lyonhart, Songwriter and Performer
---